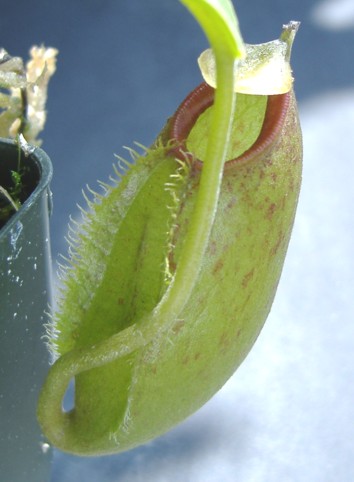 N. bellii X (N. ventricosa X aristolochioides)
purchase date: 10 / 06
arrived as a size 3
plant origin: Exotica Plants
photo taken: 6 / 07
Nepenthes bellii X ( N. ventricosa X aristolochioides) is an Exotica Plants hybrid between a lowlander and a highlander / intermediate. Small plants, size 3, were briefly offered from Exotica Plants and then went off the list around the beginning of 2007 if I recall. Exotica Plants will sometimes release some of their seed grown hybrids early and then release more of them later when they become of size. I say that only because Exotica Plants makes sure their plants are nice size, at least 4 inches minimum, across before releasing them. Usually they are much bigger than that. So I anticipate that more of this hybrid will be available in the near future. I initially had 2 plants one of which died. That is HIGHLY unusual for an Exotica Plant. It had gone in to transplant shock and died within the first week I had it. The other one did fine. I've been growing it under shade cloth and it continues to grow well for me outdoors as a highlander. It might grow quicker under intermediate conditions because of the N. bellii and N. ventricosa in it. I haven't heard of anyone growing it as a lowlander but it may be possible as well. Photos from Exotica show this hybrid to look a lot like N. aristolochioides. Maybe as the plant grows out the length of the tendrils may increase due to the N. bellii influence. In general, anything with N. aristolochioides as a parent in a hybrid is worth adding to the collection.
RATING
lowlander? / intermediate / highlander (not a naturally occurring hybrid)
Cultivation: moderate outdoors, may be more vigorous as an intermediate, appears easy once established
Market availability: size 3; limited offerings as of 6 / 2007 from Exotica Plants
Species variability: maybe some among the seed grown plants
$ / size: moderate to expensive $30.00 - $50.00
Cuttings: none available for trade
Sex: unknown