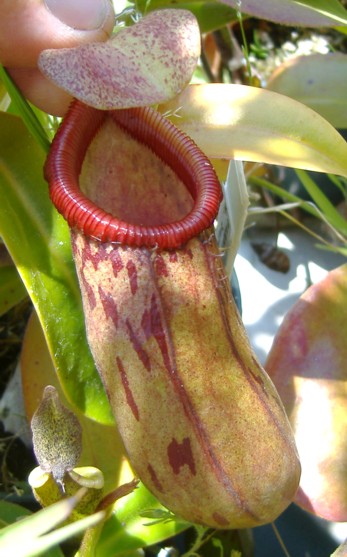 N. burkei
purchase date: 10 / 07
arrived as a size 3
plant origin: Borneo Exotics
photo taken: 8 / 09
Nepenthes burkei is a species from the Philippines that came into cultivation in 2006 from Borneo Exotics. There was confusion whether this was a true species or a form of N. ventricosa. The first photos I saw from Ch'ien Lee posted in one of the forums showed N. burkeii to be completely different from N. ventricosa. Initial offerings of this species were from seed and I grew a few of those. They grew very similar to N. ventricosa and even looked like N. ventricosa without the splotching on the pitcher. Eventually, those perished during a cold spell in winter. Later I got a few of the tissue culture offerings and they look more like the true N. burkei. Prices have dramatically come down on this species since they were introduced and the size has increased. It's a nice looking species that is different from N. ventricosa but does grow very similarly to N. ventricosa.
RATING
intermediate / highlander (1300m - 1600m)
Cultivation: easy outdoors, grows similar to a N. ventricosa, more of an intermediate than a true highlander
Market availability: size 3 to larger plants; available
Species variability: possibly some among the original seed grown offerings; (unsure how many clones are in tissue culture from Borneo Exotics)
$ / size: inexpensive to moderate: $10.00 - $40.00
Cuttings: none available for trade
Sex: unknown