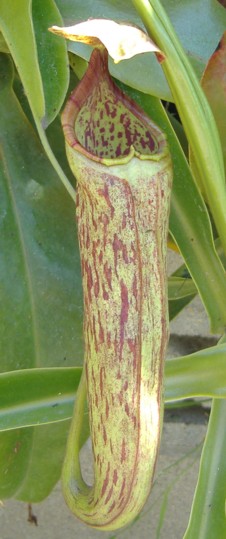 N. X Dreamy Koto
purchase date: 3 / 07
arrived as a rooted cutting
plant origin: Leilani Hapu'u Nursery
photo taken: 8 / 08
Nepenthes X Dreamy Koto is a hybrid between N. thorelii and N. veitchii. There's a lot of hybrids of what I call the "Koto" series. Some that I've seen are Effulgent Koto, Emotional Koto, and others. I haven't backtracked the history of this hybrid to be honest and I'm not real knowledgeable when it comes to naming hybrids. Some hybrids that use a cultivar name may all be copies of the same clone whether it be from tissue culture of cuttings. With this hybrid, I don't know. Meaning that there may be many plants out there called N. X Dreamy Koto that are male and females. So therefore there would be some variation within the hybrid. Or this plant may have only been propagated by cuttings and everyone that has this hybrid has the exact same clone. The plant was purchased from the Leilani Hapu'u Nursery in Hawaii as a rooted cutting. The pitcher above is from the main vine. There is a basal growing but has produced any pitchers yet. There may be a difference between uppers and lowers if indeed they are produced in this hybrid. I'm growing outdoors in full sun as a highlander. Right now it has adjusted to my growing conditions with no problems. My guess is this hybrid does better in warmer climates so my winters may slow it down a lot. But I've found that N. thorelii hybrids are vigorous and tolerate a wide variety of climates. This wasn't a hybrid I was seeking but rather something to experiment with. So far it's proving to be a nice vigorous hybrid.
RATING
highlander? / intermediate / lowlander (not a naturally occurring hybrid)
Cultivation: easy, vigorous grower in lowland to intermediate temps; tolerates highland conditions but slows down
Market availability: rooted cuttings; available
Species variability: none if from one cutting; maybe some among the original seed grown plants if around
$ / size: moderate $30.00 and up
Cuttings: none available for trade
Sex: unknown