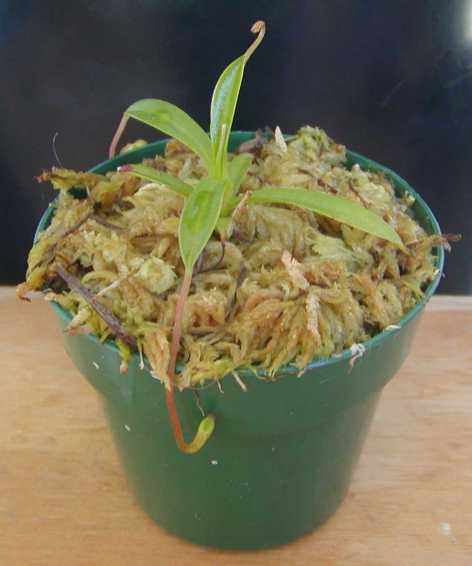 newly arrived plant {photo taken 8/03}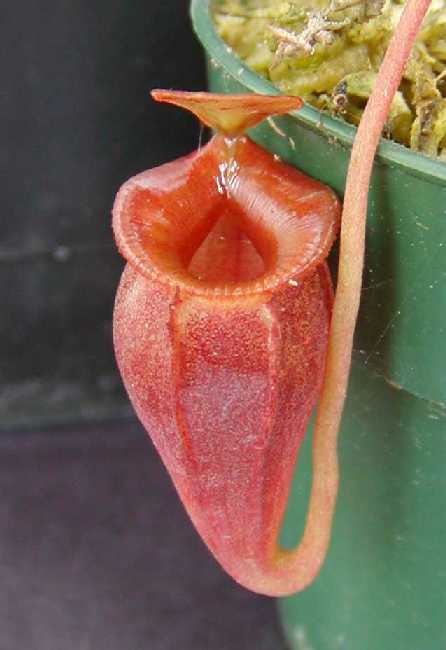 photo taken 7/04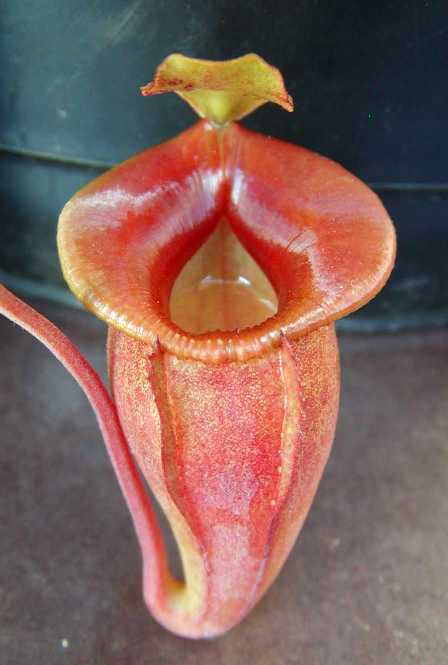 photo taken 11 / 04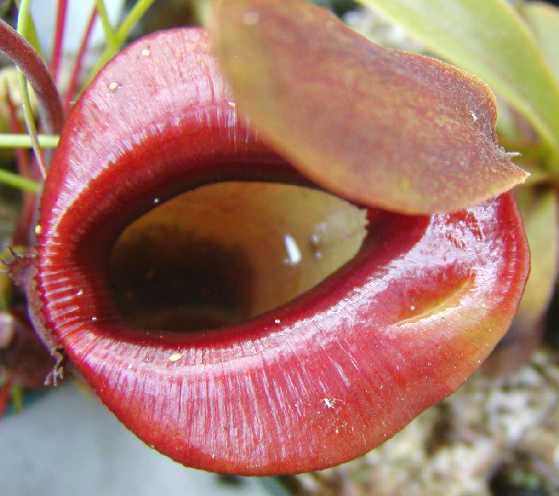 N. jacquelineae with a pitcher full of ants.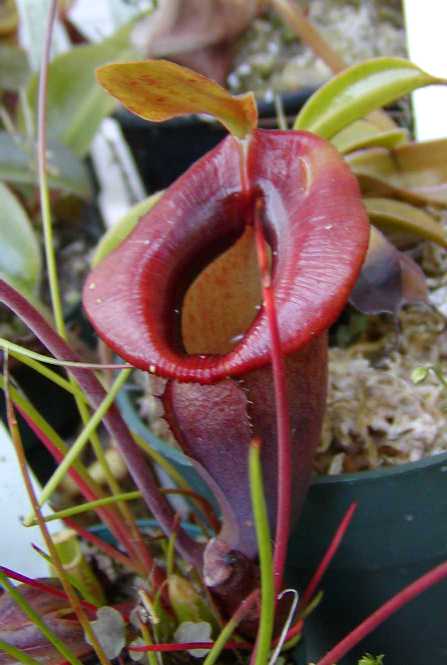 photo taken: 7 / 05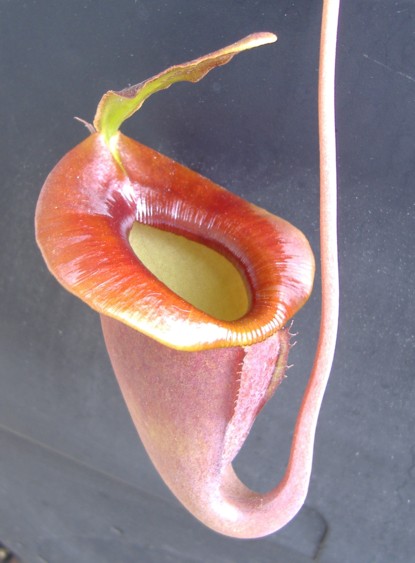 N. jacquelineae
purchase date: 7 / 03
arrived as a size 2
plant origin: Borneo Exotics
photo taken: 6 / 06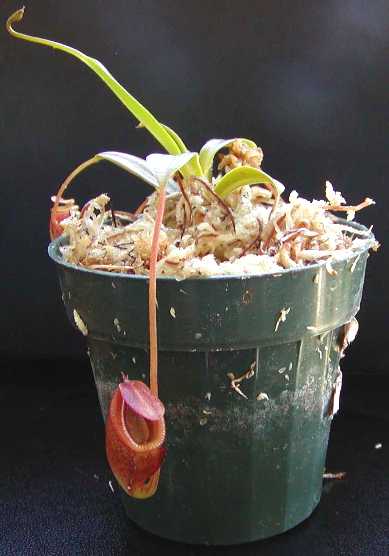 photo taken 5 / 05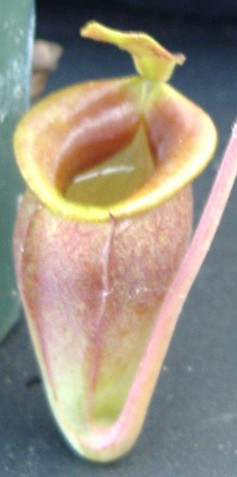 N. jacquelineae (1750m)
purchase date: 5 / 05
arrived as a size 3
plant origin: Borneo Exotics
photo taken: 2 / 06
Nepenthes jacquelineae was recently discovered a few years back and pictures came out in Charles Clarke's book Nepenthes of Sumatra for the first time. This plant has a spectacular peristome that is flared and horizontal like a dish sitting on the opening to the pitcher. I only know of this plant from the photos in the book. There seems to be an all red form as well as a green form. Upon arrival, I potted them up and put them directly outside with my others. Since then, both plants have pitchered and grown nicely without any signs of stress from lower humidity or outdoor temperature fluctuations. However, one plant has doubled in size compared to the other which might indicate one seed grown clone is more vigorous than the other. I really like the all maroon N. jacquelineae I've seen in photos! The pitcher above shows some signs of possibly having a lot of red in it. Since this first batch was released as seed grown plants, there will be some differences among the jac's. I've heard that some other grower's plants are mostly red while others plants are more green. We'll see what happens over time. There were some reports that some of the seed grown specimens might have been mixed with N. izumiae and were not pure N. jacquelineae. I remember a photo from Tony at Exotic Plants Plus had a hybrid from these two species. As of late, N. jacquelineae has made it into tissue culture so the prices will hopefully decrease. Also Borneo Exotics has just released some new seed grown plants that originated at around 1750m. I bought one of these to see if there will be any differences between the plants. Rumor had it that the 1750m clones are more robust than its predecessors. Time will tell. I've been told that if you were one of the original buyers to get a seed grown plant you were lucky because that means your plant may be a different sex, or slightly different from the TC ones. This species is a moderate to quick grower outdoors for a highlander. It is very hardy and doesn't seem to stress at all. This plant will quickly become a must for the collection.
RATING
highlander 1700m-2200m
Cultivation: easy; moderate to quick grower for a highlander
Market availability: size 2 to size 3, limited at this time but becoming more available
Species variability: green, splotched, all red
$ / size: expensive to collector's plant: $75.00 and up
Cuttings: none available for trade
Sex: unknown