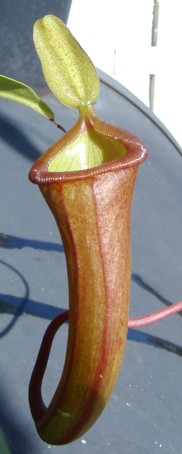 N. ventricosa X (dubia X singalana)
purchase date: 9 / 06
arrived as a large plant
plant origin: Exotica Plants
photo taken: 10 / 06
Nepenthes ventricosa X (dubia X singalana) is a hybrid between all highlanders. I got this plant as a "bonus plant" from Tony at Exotic Plants Plus for purchasing a lot of plants from him. Gotta love bonus plants! This hybrid has been available for some time but I never thought anything about purchasing it. But when it arrived, I found I really did like this cross. The pitchers still have some N. dubia in it which makes it nice. It also adapted quickly to my outdoor growing conditions with little to no stress that is very unusual with large Exotic Plants clones. I usually get some stress from lower humidity but then the plants settle in about a month or so later. But not the case with this guy. I wouldn't consider this a "must have" hybrid from Exotica Plants but I'm glad to be growing it anyway. Considering the size, it really isn't that expensive of a plant and may be a nice plant to experiment as a hanging indoor plant.
RATING
highlander (not a naturally occurring hybrid)
Cultivation: appears easy outdoors, adapted quickly to outdoor growing conditions
Market availability: size 3 to larger plants; fairly available
Species variability: some among the different seed grown hybrids
$ / size: inexpensive to moderate $20.00 and up
Cuttings: none available for trade
Sex: unknown